PAX Academic Exchange provides global education and exchange opportunities for students, host families, schools and communities to open doors, embrace cultures, and become family.
Have you ever considered opening your home to a foreign exchange student? PAX invites you to expand your horizons and open your mind to new perspectives - what an experience it could be for you and your family to host a student with different customs, language and points of view!
What is hosting?
Hosting means opening your home and sharing the love of your family and meals with a student between the ages of 15 and 18 who is not from from America. It means loving a student from another country and sharing your home with them while they experience life in America.
What You Provide
PAX families are asked to provide students with three quality meals a day, a place to sleep and study, transportation to and from school activities, and a warm, supportive environment. Private rooms are not required.
Program Length
Year program students stay for 10 months and arrive in early-August. Semester students stay for five months and arrive in either early August or early January. Families who are not able to commit to hosting for a full-year or semester can become a "Welcome" family. Welcome families host a newly-arrived student upon their arrival for six to eight weeks.
Student Placement
We take families of all different make-up. Big, small, young, old - there's no requirement to be rich or travel all the time. None of that. These students are just seeking a welcoming and loving, American family!
PAX works with you based on your preferences, which may include gender, country of origin, hobbies and interests, etc. You can even do some exploration and search for students awaiting a host family right now on the PAX site.

Why Host
Not only does hosting benefit your exchange student, but it benefits your family in so many ways - introducing you to a new culture, language, tradition and way of life. There are many families who have hosted multiple exchange students and keep in touch with their students who have returned overseas, and with PAX you'll be part of a supported community to share experiences.
Questions?
If you have questions, start by checking out the FAQ section on the PAX site here:
Learn More
Sabrina Hickey serves as a Foreign Exchange Community Coordinator for PAX, and her family has hosted a number of foreign exchange students. She places international exchange students in homes around Central Indiana and would love to serve as your guide through this process.
If you're interested in learning more, visit https://www.pax.org/ and contact Sabrina at shickeypax@gmail.com.
You may also follow PAX on Facebook at https://www.facebook.com/PAXAcademicExchange/.
Testimonials
Check out a PAX student/family testimonial below:
The Sink family hosted Rafi from Indonesia-Kennedy Lugar Youth Exchange and Study scholarship recipient for the second semester of the school year. Beth, his host mom shared that her expectations were that "Rafi would be a kid that I would feed and that he would sleep in my house - like a roommate. Little did I know that he would become a son - a piece of my heart."
Pictured below are Rafi and his two host sisters Ayla and Bryanna. The Sink family lives in Franklin, Indiana. Rafi joined Heritage Singers and got to be the first Franklin exchange student to go with FCHS Choirs and win State!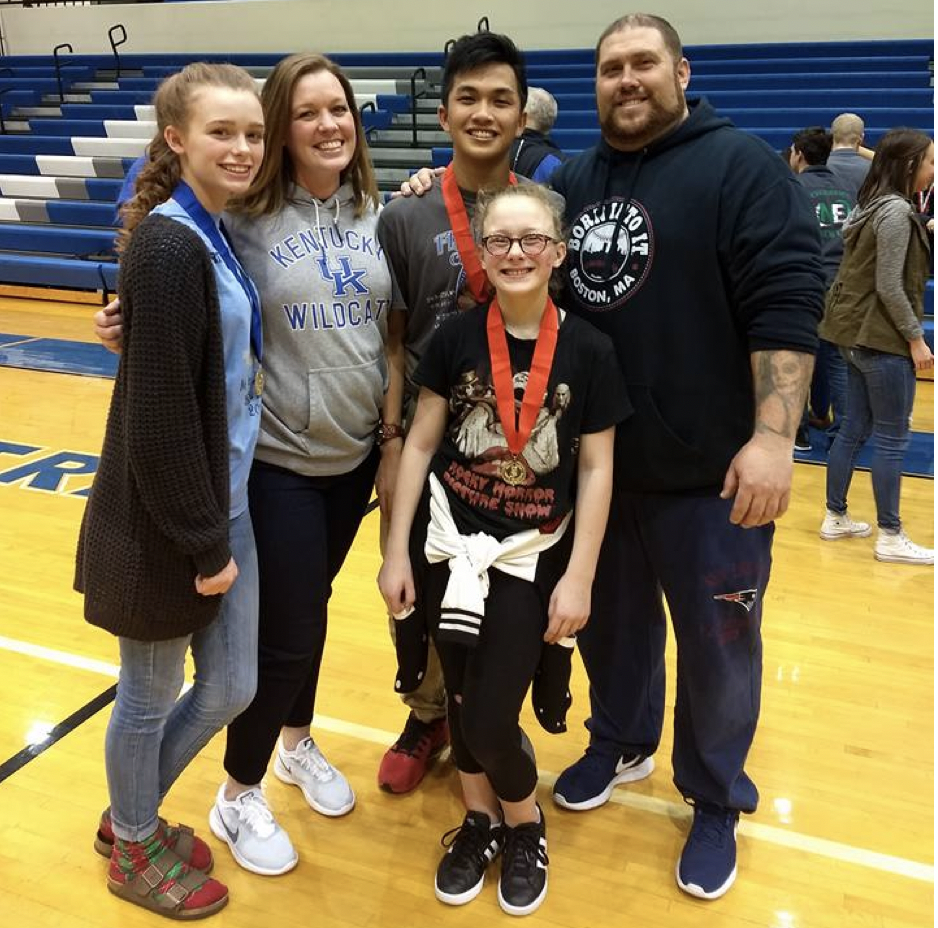 From Rafi: Hi! I am Muhammad Rafi Alfarezi, you can call me Rafi. I am Indonesian. I was an exchange student in Franklin, Indiana, USA since August 2017 'til June 2018. My Exchange Year is one of the unforgettable moments in my life, I will never forget about it. This wonderful exchange year wouldn't happen without my wonderful and awesome host family: The Sink family! I still remember the first time I came to the house my host dad said "You will have fun here." I had so much fun living with them. My host mom and dad treated me like their own son. My sisters treated me like their own brother and so did my host grandparents, aunts, uncles, cousins and all of the family members. They made me feel like "I am home" and that was what I needed. My exchange year wouldn't have been a success without their awesomeness, patience and of course love. I love my host family so much! I am so proud that they are part of my family now. I miss them a lot and I have to go back "home" to meet them again. ❤